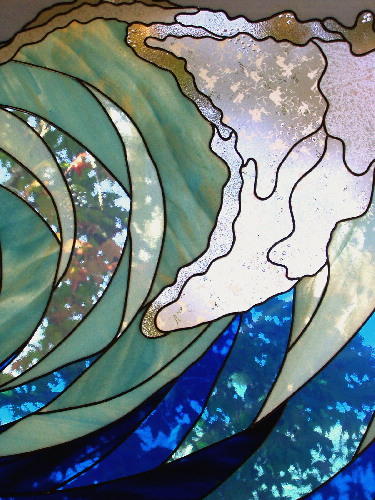 Stained Glass Overlay
Glass and Mirror Shoppe's own Art Glass Overlay offers over 35 years of experience in art glass. Our stained glass overlay combines multiple materials – tempered glass, lead, bevels, jewels, colored and textured lamination, and more to form a solid piece of decorative faux stained glass.
The finished product offers the look and feel of traditional stained glass, but with the strength and security of safety glass. The stained glass overlay process also withstands the sun's rays as well as adds a UV protection up to 80% with our lamination. We use the highest quality lamination, lead, and bevels by SGO manufactured in England for the best stained glass overlay piece.
Glass and Mirror Shoppe's in-house artists work one on one with clients to develop their ideal custom stained glass overlay image. All fabricated in our studio!
Check out our Before and After page to see the difference adding stained glass overlay can have on your view!
Also check out our Lead and Bevel section for non-color choices!
So if you want a faux stained glass look, Contact Glass and Mirror Shoppe here, call at (760) 729-1064, text us at (760) 390-2273, or email us at glassandmirror@icloud.com today to consult with our stained art glass overlay artists.